Help Our Family Get Out of Syria
Our dear friend Ahmad has the most beautiful kids you could imagine. Smart and sneaky Hamzeh, Princess Aya, Rascal Beauty Alma and Baby Boy Rayan. He and his wife Sabha are the sweetest, most caring parents a kid could ask for, and they all have become more than friends to us. They are a part of our family now.
Ahmad's brother Mohammad was less fortunate. He traveled alone to Germany, because it seemed safer at the time not to subject his ill wife and children, Bisan and Azeddin, to the dangerous journey. So many people had already died crossing the Mediterranean Sea, and he had hoped to be able to get his family in with the help of German officials, once he had applied for asylum.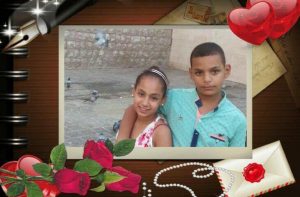 Sadly, it all is more difficult than he anticipated. He has been separated from his family for over 3 years. Through the standard procedure, it is unlikely they could join him for at least another year. And so, Mohammed's wife and his two children, a 10-year-old son and an 8-year-old daughter, are stuck in a Palestinian refugee camp in Syria, with limited access to water, electricity, food. His wife urgently needs medical attention, which she could get in Germany.
But there is hope. With our help, your help, and the help of the Berlin non-profit organization"Flüchtlingspaten Syrien e.V." (Syrian Refugee Patrons), it is possible to officially fly them as sponsored refugees to Berlin/Germany, reunite a family with their father, and provide a safe home and new life for them.
We need to raise a minimum of €1500.00 per month for the next five years (not all at once and not all from one source) to become an official sponsor. We are collaborating with t "Flüchtlingspaten Syrien e.V." , who is organizing all the official documents, making sure everything is accordance with German law, and administrating the process.
Now all we need is your support…with as little as 10€ (about $11.30) a month (one sandwich and drink), you can help save Mohammed's wife and kids and reunite his family! 
The link is now live to be able to set up a monthly donation or make a one-time contribution. Every bit helps, and should we exceed our own needs to help Mohammed's family, there is a pipeline of others whom we can help unite with their families.
To earmark your donation to help Mohammed, please be sure to add "Mohammed-THN" in the MESSAGE, and feel free to post on Facebook how you found out about this opportunity to make a difference, so we can give thanks where thanks are due!
Thanks! Love! Peace! ACTION!
Subscribe to our newsletter. Stay tuned and get updates about our progress and how your contribution is helping save lives. THANK YOU!