Help Our Family Get Out of Syria
Our dear friend Ahmad has the most beautiful kids you could imagine. Smart and sneaky Hamzeh, Princess Aya, Rascal Beauty Alma and Baby Boy Rayan. He and his wife Sabha are the sweetest, most caring parents a kid could ask for, and they all have become more than friends to us. They are a part of our family now.
Ahmad's brother Mohammad was less fortunate. He traveled alone to Germany, because it seemed safer at the time not to subject his ill wife and children, Bisan and Azeddin, to the dangerous journey. So many people had already died crossing the Mediterranean Sea, and he had hoped to be able to get his family in with the help of German officials, once he had applied for asylum. Sadly, it all is more difficult than he anticipated. He has been separated from his family for over 3 years. But: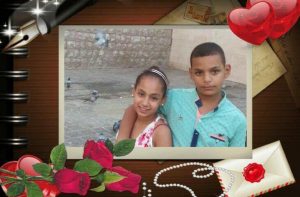 Immediate Call To Action: Our friend Mohammad has good news! His wife and two children have gotten an appointment at the German Embassy in Northern Iraq for next Wednesday.
They will fly from Damascus to Iraq on Monday, and stay in a hotel there until they get their paperwork in order so they can join Mohammad after 3 years without them in Berlin!!!
The flights to Iraq cost $1500 and the flights to Berlin are about $3000 for the family.
YOU can help get them there. I have enough funds collected to get them to Iraq, but I need to collect a bunch more to help cover their hotel and Berlin flights. If you would like to contribute, you can either write a check the the State College Presbyterian Church (memo: Mohammad) for a tax deductible contribution, or send via paypal to paypal.me/theyhavenames (not tax deductible).
If you would like to directly contribute to getting a wonderful family to safety and help them start a new life in Berlin, we would be delighted!!
THANK YOU!!
Another way to help is to buy one of our books or these great T-shirts. Profits directly support our family and will continuously be used to support awareness and family reunification.
Just follow the link: https://www.eifrigpublishing.com/pages/they-have-names
Subscribe to our newsletter. Stay tuned and get updates about our progress and how your contribution is helping save lives. Again, THANK YOU!